DrySyn (Heating & Cooling Blocks) :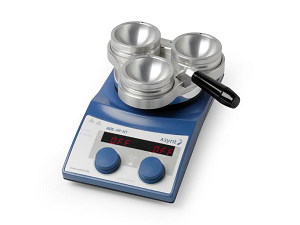 The DrySyn MULTI system converts any standard hotplate stirrer into a reaction block for 3 flasks of 10ml – 100ml, or up to 12 vials. Its modular system offers flexibility and is very compact with a small footprint that is just a little wider than an average hotplate stirrer.

The DrySyn MULTI base fits easily with any standard hotplate stirrer; round or rectangular.

This MULTI base allows 3 x flask or vial inserts to be used in parallel or 1 x insert to be used in the center at a time.

The DrySyn MULTI complete kit (part number: ADS3) comprises the base plate, 3 x 25ml, 3 x 50ml and 3 x 100ml inserts and a heat resistant handle however you can also buy these components separately to make up your chosen configuration of inserts. In addition, this base is suitable to use with the DrySyn MULTI position tube and vial inserts, offering up to 12 reactions in parallel.